Kawaii Earrings
Kawaii earrings are the best way to help you stand out at an event! Here you can view a range of Kawaii inspired earrings, food-themed earrings, animal-themed earrings and more.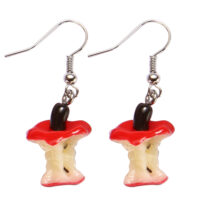 £

4.99
Apple Core Drop Earrings
Apple Core Earrings are 2cm long dangly earrings in the shape of an eaten apple. The cute earrings will give a quirky touch to any outfit. We also sell matching Apple Core Necklace to go with it.
Images are for illustrative purposes only. Colours may vary.
Add to basket