Kawaii Earrings
Kawaii earrings are the best way to help you stand out at an event! Here you can view a range of Kawaii inspired earrings, food-themed earrings, animal-themed earrings and more.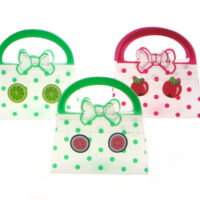 £

2.99
Tutti Fruity Earring studs
Tutti Fruity Earring Studs are little fimo fruit studs to add some fruity glamour to your outfit. These cute studs come in different designs: apples; watermelon slices; orange slices and kiwis to name a few. Although these kawaii earrings will be envied by all, they are not part of your 5 a day, unsuspecting hater of all things cute!
Colours may vary, designs send at random. Images are for illustrative purposes only. Earring studs will be send out in a stylish handbag style card.
Add to basket