summiko gurashi
£

10.99
Sumikko Gurashi Purse
The exterior of this genuine San-X original Sumikko Gurashi Purse is made of a glossy fabric with cute Sumikko Gurashi graphics printed on a grid background. The lined interior also has an inside pocket and the zip has a Sumikko Gurashi character plush ball hanging from it. This purse can also be used to carry your stationery or your make up items.

Images are for illustrative purpose only. Genuine San-X Japanese import.
Add to basket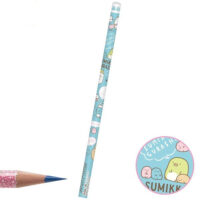 £

0.99
San-X Summiko Gurashi HB Pencil
Why not make writing a joy with this Summiko Gurashi HB Pencil from San-X Japan? The pencil is covered in a metallic foil with some cute Summiko Gurashi character designs printed on it. The top of the pencil also features a smiley face to add to the kawaiiness and is available in four different designs.

Images are for illustrative purpose only. Official San-X Japan licensed merchandise. One design will be sent at random.

Add to basket